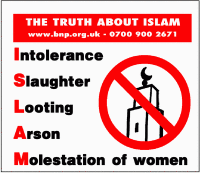 Controversial plans to make incitement to religious hatred illegal are being unveiled by the government. The government says the legislation is a response to the concerns of faith groups, particularly Muslims.
The Muslim Council of Britain has welcomed the move, arguing that the courts have already extended such protection to Sikh and Jewish people. Sher Khan, a council spokesman, said to protect some groups but not others contravened the European Convention on Human Rights.
---
The BNP states that the new law "is intended to stop the British National Party and other individuals pointing out that Islamic fundamentalism poses a serious threat to the well being of Britain. It has been drafted at the behest of Muslim organisations and New Labour's increasing dependence upon the Islamic vote to stay in power has led to the creation of this piece of legislation. The law is a further erosion of free speech and one which even gay actor and comedian Stephen Fry called 'a sop to Muslims' on Radio 4 yesterday afternoon."
The fascists promise: "If the Bill does become law the BNP will not stop its public awareness campaign [sic] against militant Islam and we will find ways around the legislation to continue to point out that the Islamic wolf is already in the secular/Christian/non-Muslim lamb's pen."
Over at Jihad Watch, under the heading "Freedom of speech in grave peril", Robert Spencer warns that the adoption of such legislation "would be a cornerstone of the Islamization of Britain".