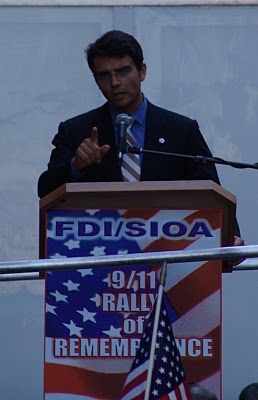 Ilario Pantano, who is standing as a Republican candidate in North Carolina's 7th congressional district in the US midterm elections.
The basic facts are undisputed: on 15 April 2004 Ilario Pantano, then a second lieutenant with the US marines, stopped and detained two Iraqi men in a car near Falluja. The Iraqis were unarmed and the car found to be empty of weapons.
Pantano ordered the two men to search the car for a second time and then, with no other US soldiers in view, unloaded a magazine of his M16A4 automatic rifle into them, before reloading and blasting a second magazine at them – some 60 rounds in total. Over the corpses, he left a placard inscribed with the marine motto: "No better friend, No worse enemy."
Six years later Pantano is on the verge of a stunning electoral victory that could send him to the US Congress in Washington. He is standing as Republican candidate in North Carolina's 7th congressional district, which was last represented by his party in 1871.
With the help of the right-wing Tea Party movement, and with the benefit of his image as a war hero acquired from what happened on that fateful day in 2004, he has raised almost $1m (£630,000) in donations and is now level-pegging with his Democratic opponent, Mike McIntyre.
Pantano is fighting the election on a national manifesto for change. He wants to cut back on government spending and clamp down on extremist Islam. He recently spoke at Ground Zero in New York where he opposes plans to build an Islamic cultural centre nearby. "America objects to what's happening there. The folks in this district think it's an abomination," he said.
He has been endorsed by Pamela Geller, one of the leading opponents of the cultural centre who has built bridges between her group Stop Islamisation of America and the British far-right group the English Defence League. "I don't have any anxieties about Pam Geller," Pantano said. "She is a patriot. I'm thrilled to have her endorsement."