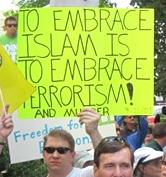 MURFREESBORO, Tenn. — Republican presidential candidate Herman Cain opposes a planned Tennessee mosque that has been the subject of protests and legal challenges.
Cain didn't bring up the controversial facility in a campaign rally on Thursday, but told reporters afterward that he's concerned about the Islamic Center of Murfreesboro. "It is an infringement and an abuse of our freedom of religion," he said. "And I don't agree with what's happening, because this isn't an innocent mosque."
The new mosque has been the subject of protests and counterprotests in the city about 35 miles southeast of Nashville. A county judge ruled in May that the mosque construction does not harm the residents who sued to try to stop it, but he allowed them to move forward on claims the county violated an open meetings law in approving it.
Opponents have used the hearings to argue that the mosque is part of a plot to expand Islamic extremism in the U.S. Cain appeared to agree. "It is another example of why I believe in American laws and American courts," Cain said. "This is just another way to try to gradually sneak Shariah law into our laws, and I absolutely object to that."
See also Adam Serwer, "Herman Cain winning the anti-Muslim primary hands down", The Plum Line, 15 July 2011