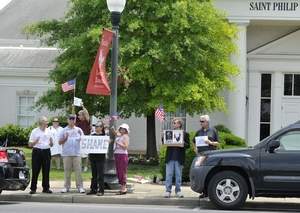 Dutch politician Geert Wilders sees a kindred spirit in Tennessee – a state where new mosques draw protests and the legislature is considering a bill that once targeted adherents of Islamic law.
On trial for hate speech in his home country, Wilders brought his headline-grabbing views on Islam to Middle Tennessee on Thursday. He came to town as the invited guest of the Tennessee Freedom Coalition, a 2-week-old political coalition founded by Republican former congressional candidate Lou Ann Zelenik.
"I come with a warning for America," said Wilders, a filmmaker and member of the Dutch parliament, and something of a cult celebrity in some conservative circles. Close Islamic schools, he warned America. Halt construction of mosques – or "hate palaces", as he calls them. Cut off immigration from "non-Western and especially Islamic countries", and expel any immigrants who do not "assimilate".
"I was happy to visit the state of Tennessee, where I know a lot of people – certainly a lot of Christians – feel the same threat as we do, and know when you talk about values, when you talk about who you are and who you are not, and that Christianity is for certain not the same as Islam," said Wilders, who is not himself a Christian. "I compare Islam not with Christianity and Judaism. I compare Islam with fascism and communism."
His first stop of the day was talk show host Steve Gill's radio show, then a meet-and-greet and news conference at Williamson County Republican Party headquarters in Franklin. The evening ended with a closed-to-the-press speech at Cornerstone Church in Madison about what Wilders sees as the evils of the world's second-largest religion.
In Franklin, about a dozen protesters stood in the punishing May sunshine across from Republican headquarters, waving signs that said "SHAME" and "Be nice or go away".
"It's very inappropriate for an official political party here in Tennessee to bring in someone so notorious," said Williamson County Democratic Party Chairman Peter Burr. "This guy is sort of the epitome of the outside agitator. That's not the way we do business here in Tennessee."
The Council on American-Islamic Relations issued a statement condemning Wilders' visit to Tennessee and asking state and local Republican officials to repudiate the decision to "honor one of the world's leading Islam-haters".
See also Peter Burr, "Outside agitators should not define America's values", The Tennessean, 12 May 2011
Update:  Wilders' speech has been reproduced on a number of right-wing blogs, including Jihad Watch and Atlas Shrugs.