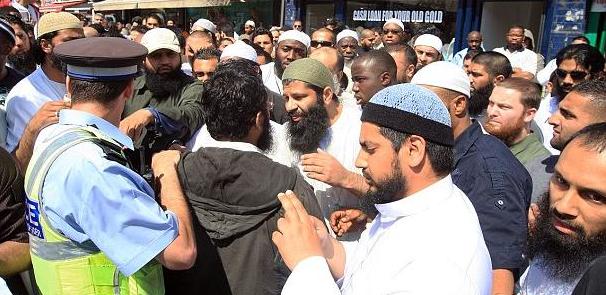 Farasat Latif was taking his daughter to school when he found out that the mosque he ran in Luton had been firebombed by right-wing extremists.
In the middle of the night two men in a stolen silver BMW had driven up to the Masjid Al Ghurabaa in the Bury Park area and poured petrol through a side window before making their getaway.
The anger that Mr Latif felt following that fire on 4 May could have been directed solely at the bigots who set his mosque alight. But the people he was most furious with were a motley collection of 15 to 20 young men who regularly preached a radical and intolerant brand of Islam from a street stall down the road and had helped foster the image that Luton was an Islamist stronghold.
Two weeks earlier those same men – most of whom are former members of the banned Islamist group Al Muhajiroun – had greeted soldiers of the Royal Anglian regiment who were returning from Iraq with screams of abuse and placards declaring them "Butchers of Basra", "murderers" and "baby-killers".
The protest outraged whole swaths of Britain, not least Luton's 25,000 Muslims who knew all too well that their town would once again be associated with extremism.
Once the Masjid Al Ghurabaa was firebombed, in what police suspect was a retaliatory hate attack, Mr Latif sadly concluded that Luton's ordinary Muslims were paying the price for the actions of the "Al Muhajiroun boys". Which is why he decided to act against them. Shortly after Friday prayers last week he and 300 supporters marched down to Dunstable Road where the sect often set up their stall and told them in no uncertain terms that they were no longer welcome in Luton.
Mr Latif hopes that their decision to turn on the extremists within their own community will now prompt Luton's white community to do the same. "I believe people on all sides are sick of the extremists," he said. "I now hope the white working class will weed out the fascists and hate mongers just like we now have. Otherwise things will only get worse."
Read Islamic Centre statement (pdf) here.