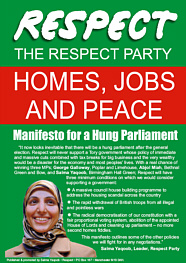 Left-wing party Respect called for a ban on demonstrations by the far-right English Defence League, as it launched its election manifesto.
Birmingham candidate Salma Yaqoob, the party's leader, joined high-profile candidate George Galloway in London to launch the manifesto, which also includes plans for an annual anti-racism concert in every major city.
Respect says it is hoping to gain seats in Birmingham Hall Green, where Ms Yaqoob is standing, and in Poplar and Limehouse, London, where Mr Galloway is the party's candidate.
Measures in the manifesto include a ban on demonstrations by the English Defence League (EDL), which held a protest in Dudley earlier this month that put the town into lockdown.
The EDL, which has also held demonstrations in Birmingham which descended into violence, says it is opposed to Islamic extremism. Critics accuse it of having links to the far-right and claim it is simply opposed to Islam and Muslims in general.
The Respect manifesto also includes plans for annual anti-racism concerts in every major city in the country, based on London's annual Rise anti-racism festival, which ran from 1996 to 2008.
Birmingham Post, 27 April 2010
See also Respect news release, 26 April 2010