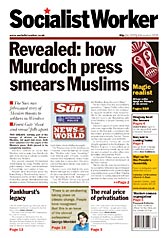 Two smears, forming part of the barrage of attacks on Britain's Muslims, fell apart last week. Both were splashed over the pages of the Murdoch press. Both proved to be completely baseless.
The first centred on claims that Muslims tried to scare four British soldiers from moving to a home in wealthy Datchet near Windsor. The second smeared Mohammed Abdul Kahar, the young Muslim shot by police during a "terror" raid on his home in Forest Gate, east London, in June.
Despite lurid headlines about the house being a "bomb-making factory", Mohammed and his brother walked free from police custody. But that did not stop attempts to smear Mohammed, including lurid claims about child pornography.