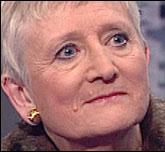 Ministers should review plans to build a "mega-mosque" in the East End in the wake of the airline bomb plot trial, the Tories urged today.
Shadow security minister Dame Pauline Neville-Jones said the case had shown that the group behind the mosque may have given cover to extremist activity.
Tablighi Jamaat, which describes itself an Islamic missionary organisation, is pushing for the mosque to be built next to the 2012 Olympics site in Stratford. But the group was revealed in court as having links to some of the terror suspects, with several having passed through other mosques run by the group.
The organisation, which has 80 million followers worldwide, insists it is a peaceful, apolitical revivalist movement that promotes Islamic consciousness among individual Muslims. But intelligence agencies have cautioned that its ability to radicalise young men could lead to jihadist terrorism
Dame Pauline, former chairman of the Joint Intelligence Committee, said today:
"The news that the terrorists convicted of the liquid bomb plot attended Tablighi Jamaat mosques is very disturbing. This is not the first time this has happened. Those convicted of the 7/7 bombings read Tablighi Jamaat sermons. Tablighi Jamaat claims to be solely a missionary organisation with a religious and charitable purpose."
But Dame Pauline believes it gives cover to extremist activity. She said: "This must be taken into account when considering the planning application for the Tablighi-Jamaat mosque in east London."
Evening Standard, 9 September 2008
Update:  See also "Patrick Mercer MP calls for investigation into orthodox religious group" in the Times, 10 September 2008
And "Airliner bomb trial: Fears raised over fundamentalist Islamic group in Britain" in the Daily Telegraph, 10 September 2008