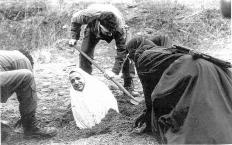 Robert Spencer of Jihad Watch and US feminist Phyllis Chesler have co-authored a pamphlet, The Violent Oppression of Women in Islam, as their contribution to "Islamo-Fascism Awareness Week".
What with Julie Bindel's Sunday Times article endorsing fascist myths about "Asian grooming", an Islamophobic alliance between the racist Right and a warped version of feminism would appear to be a theme of anti-Muslim bigotry this week.
See Front Page Magazine, 5 October 2007
Download the pamphlet (pdf) here.
The cover of the pamphlet reproduces the notorious illustration which, as Spencer and Chesler are forced to admit in their article, also featured in the Front Page Magazine press release announcing Islamo-Fascist Awareness Week. It is in fact fictional, having been taken from a 1944 Dutch film called De Steen. Yet the press release assured readers: "The photo accompanying this article, which shows a teenage girl buried before being stoned to death for alleged sexual offenses, will serve as the poster for the protest Week. The stoning took place in Iran."