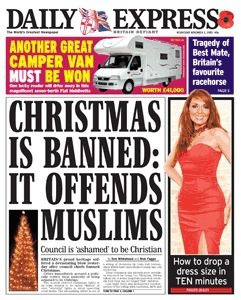 A decision to call Christmas lights "Winter Lights" in south London has been condemned as showing a "total lack of respect" for Christians.
Advertisements for the switch-on of the lights in multi-cultural Lambeth have renamed them, apparently for fear of offending other faiths.
Tory councillor Bernard Gentry told the BBC: "Christmas appears to have been cancelled in our borough".
However, a council spokesman was quoted as making the not unreasonable point: "The term winter lights simply reflects the fact that a number of religious festivals take place over the winter period when the lights are switched on."
Predictably, this produced the usual Islamophobic response in the right-wing press, with the Express splashing the story under the headline "Christmas is Banned: It Offends Muslims". In fact the other obvious winter festival involving the display of lights is Diwali. So it would appear that the change of terminology was motivated more by the desire to avoid offending Hindus. And why not? You can imagine the outcry from the Tory press if the winter lights used at Christmas were described as "Diwali lights".