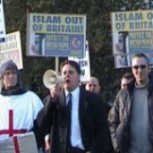 A row has broken out in Lincoln over a letter sent by a British National Party representative to the council leader criticising a new mosque in the city. Richard Foster, the BNP's regional representative in Lincoln, wrote claiming the mosque, on the site of a former church, could "teach terrorism".
Council leader Ric Metcalfe said the letter was being shown to the police to determine whether it broke race laws. "I think it is absolutely outrageous and exposes the BNP for the party it's always been known to be and a party holding overtly racist views," said Mr Metcalfe, who is Labour leader on the council.
But Mr Foster defended his words, saying his opinions were nothing new.
"The building would become an Islamic centre, rather than just a mosque and this can mean that the Islamic form of 'getting your own way' – terrorism – could be taught there. I don't know if you're aware of the programme 'The Undercover Mosque' but anything I have put in this letter, in that documentary far, far, far worse things have been said about the [Muslim] community.
"I don't need anybody to tell me that the only thing to happen in these places is worshipping their god because we all know that isn't the case. Not all Muslims are terrorists but most terrorists are Muslims," he said.
Video here.
Meanwhile, the BNP are congratulating themselves on the soft ride they've been given by the media. Thankfully, not all the media.