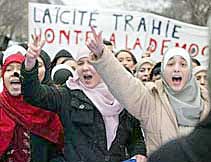 In the northern Paris suburb of Saint-Denis, with its busy market, fast-food joints and bargain clothes shops, Angelica Winterstein only goes out once a week – and only if she really has to.
"I feel like I'm being judged walking down the street. People tut or spit. In a smart area west of Paris, one man stopped his car and shouted: 'Why don't you go back to where you came from?' But I'm French, I couldn't be more French," said the 23-year-old, who was born and raised in bourgeois Versailles.
Once a fervent Catholic, Winterstein converted to Islam at 18. Six months ago she began wearing a loose, floor-length black jilbab, showing only her expertly made-up face from eyebrows to chin. She now wants to add the final piece, and wear full niqab, covering her face and leaving just her eyes visible.
"But this week, after Sarkozy announced that full veils weren't welcome in France, things have got really difficult," she said. "As it is, people sometimes shout 'Ninja' at me. It's impossible to find a job – I'm a qualified childminder and get plenty of interviews because of my CV, but when people see me in person, they don't call back. It's difficult in this country, there's a certain mood in the air. I don't feel comfortable walking around."
Human rights groups warned this week that the row over niqabs risks exacerbating the growing problem of discrimination against women wearing standard Muslim headscarves. Five years on from the heated national debate over France's 2004 law banning headscarves and all conspicuous religious symbols from state schools, there has been an increase in general discrimination against adult women who cover their heads.
"Women in standard headscarves have been refused access to voting booths, driving lessons, barred from their own wedding ceremonies at town halls, ejected from university classes and in one case, a woman in a bank was not allowed to withdraw cash from her own account at the counter. This is clear discrimination by people who wrongly use the school law to claim that France is a secular state that doesn't allow headscarves in public places. It's utterly illegal and the courts rule in our favour," said Renee Le Mignot, co-president of the Movement Against Racism and for Friendship Between Peoples. "Our fear is that the current niqab debate is going to make this general discrimination worse."
Samy Debah, a history teacher who heads France's Collective against Islamophobia, said 80% of discrimination cases reported to his group involved women wearing standard headscarves. He had rarely seen any instances of women wearing niqabs, even in the ethnically mixed north Paris suburb where he lives. "From our figures, the biggest discriminator against Muslim women is the state and state officials," he said. "What people have to understand is that the concept of French secularism is not anti-religion per se, it is supposed to be about respecting all religions."
Horia Demiati, 30, a French financier who wears a standard headscarf with her business suits, said: "I really fear an increase in hatred." She recently won a discrimination case after she and her family, including a six-month baby, were refused access to a rural holiday apartment they had booked in the Vosges. The woman who refused them argued that she was a secular feminist and didn't want to see the headscarf, "an instrument of women's submission and oppression", in her establishment.