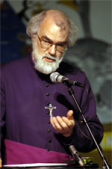 The Archbishop of Canterbury, Dr Rowan Williams, has welcomed A Common Word and provided a substantial reflection on it in a letter sent to Muslim religious leaders and scholars. The Archbishop's letter, entitled 'A Common Word for the Common Good', comes after a period of world-wide consultation within the Anglican Communion and across the Christian denominations, most notably in last month's meeting of Church representatives and scholars in London.
Dr Williams has announced that, in collaboration with Cambridge University, he is inviting a group of Christian and Muslim leaders and scholars to a conference in October that will mark the anniversary of the publication of A Common Word. In a context of scholarly engagement with the issues the gathering will seek to consider a programme of practical steps to deepen mutual understanding, action and friendships.
In his letter Dr Williams said "We are deeply appreciative of the initiative you have taken and welcome A Common Word Between Us and You as a significant development in relations between Christians and Muslims". He reflected on what he calls "the hospitable and friendly spirit" of the original letter, acknowledging it as a timely initiative "given the growing awareness that peace throughout the world is deeply entwined with the ability of all people of faith everywhere to live together in peace, justice, mutual respect and love."
The Archbishop explores how the Christian understanding of love of God and love of neighbour – seen as a response to God's love for humankind and his creation – provide the basis on which Christians and Muslims can take practical steps together for a "radical, transforming, non-violent engagement with the deepest needs of our world and our common humanity".
Anglican Communion News Service, 15 July 2008
---
The Daily Telegraph reports this under the heading "Christian doctrine offensive to Muslims, says Archbishop of Canterbury", while the Daily Mail has "Archbishop of Canterbury: 'Christian doctrine is offensive to Muslims'". This is based on a single phrase in the letter in which Williams refers to Muslim disagreement with the Christian doctrine of the Trinity.
Predictably, this misleading right-wing spin on Williams' letter has been taken up by the BNP.
Watch Islamophobic video rant by fascist leader Nick Griffin here.