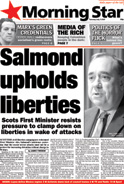 Salmond upholds liberties
By James Tweedie
Morning Star, 3 July 2007
Scottish civil liberties campaigners welcomed First Minister Alex Salmond's insistence on Monday that the recent terror attacks must not be a pretext for increasing detention without charge to 90 days.
Speaking in the wake of the failed Glasgow airport car bomb attack, Mr Salmond said: "We have not been persuaded about the necessity for that, as, indeed, other parties haven't. There is nothing in this incident which would affect that at the present moment, since we have in custody two people who are suspected of being involved in a terrorist incident."
Scotland Against Criminalising Communities secretary Richard Haley said: "We are glad Alex Salmond has made these comments. The interests of justice will be served best if police stick to the tried and trusted methods contained in the ordinary criminal law and avoid using the divisive powers granted them under terrorism laws. When all is said and done, let's remember that fewer people were hurt in the Glasgow airport incident than in the the football-related violence in Shettleston on the same day," he pointed out.
Normal flight services resumed at the airport on Monday, although special security measures were in force there and at railway stations. Cars were not allowed to approach the airport terminal forecourts, creating three and four-mile tailbacks on the M23 and M8 motorways.
Mr Salmond hailed the return to normality, saying: "Think of it – two days after a major incident and the airport's up and running and functioning normally. Today it's back to work as normal." He also praised the preparedness of the emergency services for the incident and the closeness of communication between Holyrood and Downing Street.
All eight Scottish police forces applied for wide-ranging stop-and-search powers after the attack, which were granted on Monday by Home Secretary Jacqui Smith. Association of Chief Police Officers in Scotland president Chief Constable Colin McKerracher also promised a heavy police presence at this month's T in the Park music festival in Perthshire.
Mr McKerracher added that there had been no increase in verbal or physical attacks on Scotland's minority communities since the weekend. He went on: "Across Scotland, the picture is that there are one or two reports of that sort of behaviour and that has been dealt with robustly. The level of that type of event is no greater than it is in a normal situation, so we are really pleased that the communities of Scotland have responded to those requests for calm and for tolerance."
Five people, who were arrested in different parts of the country, remain in custody, including at least one doctor. One of the would-be Glasgow airport bombers is in a critical condition at the Royal Alexandra hospital in Paisley, with burns suffered when he immolated himself during the attack. A controlled explosion was carried out on a vehicle in the hospital car park on Sunday. Police are still searching properties in Newcastle-under-Lyme and Houston, near Glasgow airport. They were seeking at least one other subject on Monday.
Mr Salmond denied that his party should rethink its opposition to the Edinburgh airport rail link in the wake of the Glasgow attack. "We are only against one specific type of link to Edinburgh airport, one that would build a railway station underneath a live runway," he said.