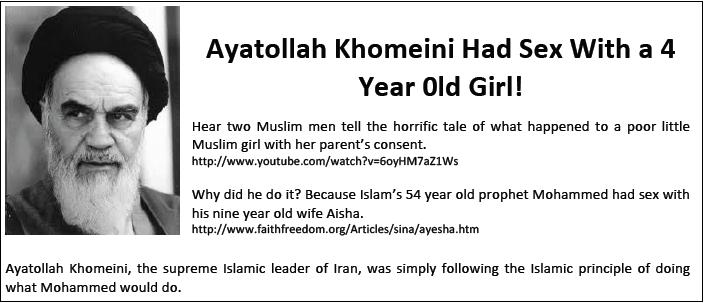 A religious organization's campaign that focuses on passing out anti-Muslim literature to students is being criticized, but the group's founder believes he is doing nothing wrong.
The organization Defend Christians has been passing out fliers to students at some local high schools, including Clairemont High School. But some say teenagers should not be the ones receiving the fliers.
Zac Patchett recently saw a flier sitting in his Clairemont home. The two-page paper shows a headline which reads "Ayatollah Khomeini had sex with a 4-year-old girl" and is critical of Islam for its beliefs. Patchett learned someone passed it out to his younger sister, a sophomore at Clairemont High School. When he saw what was on it, he said, "I was just personally offended. It goes against being an American."
When asked whether the fliers are a form of racism, Gary Cass of Defend Christians said, "This isn't racist at all. All it's doing is telling the truth about a group of people that are organized around a religious ideology. It transcends race."
The group passes out the fliers on public property just outside of the high schools. They have gone to Clairemont High School and Kearny High School, as well as other schools in Los Angeles and the Bay Area. The fliers say as Islam grows "Muslims become increasingly more aggressive" and "We must defend students from being recruited and radicalized into Islam."
"We've had great cooperation with the San Diego police and the SD Unified School District because what we're doing is not intended to be provocative. We're not trying to show up and surprise anybody. We're just trying to communicate our point of view," said Cass.
However, local Muslims say the fliers will only spread hate. "We're also concerned about the bullying that's going on in public schools. So this is only going to spark the fire of Islamophobia, possible bullying of Muslim students," said Edgar Hopida of the Council on American-Islamic Relations.
KGTV San Diego, 6 October 2011
---
In a report on their website, Defend Christians states: "The kids were animated in their response to the flyers, many disgusted at Muhammad's actions. Now the students are going to have to figure out why their school refuses to tell them the truth about Islam."
They say that they specifically targeted Kearny High School because it is "located near the Islamic Center of San Diego and has a large group of Muslim students". The group runs another website devoted to whipping up anti-Muslim hatred among school pupils, DefendStudents.org.