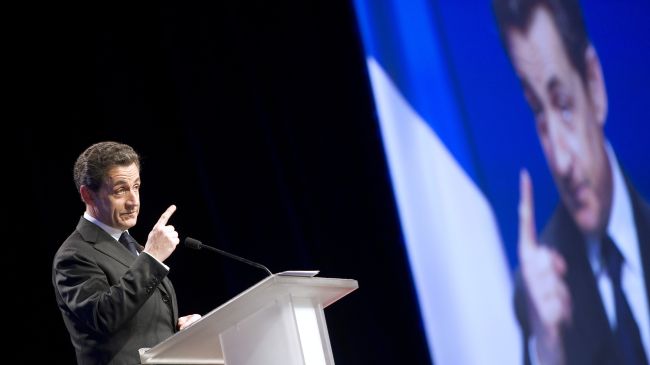 French President Nicolas Sarkozy has marked a rightward shift in his re-election campaign, pledging to cut the number of immigrants and calling for clear labelling of halal meat in a bid to entice voters away from the National Front.
Speaking to thousands of flag-waving supporters at a rally in the western city of Bordeaux, Sarkozy vowed to defend secular values in France – which has Europe's largest Muslim minority – and to send a tough message on law and order if he wins a fresh five-year term in a two-round election in April and May.
Despite rebounding in polls since launching his campaign last month, Sarkozy trails Socialist rival François Hollande.
"We must reduce the number of arrivals on our territory," Sarkozy said on Saturday, pledging to end the automatic right of immigrants to be joined by their families. "You are not welcome in France if you are only coming to receive welfare. Everyone thinks it: it is time for republicans to say it."
"Those who come with the intention of not respecting our laws and our customs, of not respecting the property of others, of not sending their children to school, of not making an effort at integration, they are not welcome on French soil," he said.
National Front candidate Marine Le Pen, running third in polls with nearly 20 percent, sparked a scandal last month by claiming that almost all meat in Paris was halal – killed according to Islamic norms by cutting the animal's throat and letting its blood drain out. Meat industry association, Interbev, denied this.
Sarkozy appeared to court Le Pen's supporters by echoing remarks from his hardline Interior Minister Claude Gueant on Saturday rejecting "multiculturalism" and suggesting school canteens should not serve halal meat.
"Let's recognise everyone's right to know what they're eating, halal or not. I'd like to see, therefore, the ticketing of meat according to its method of slaughter," Sarkozy said. "We have to consider our holidays, the church and cathedral towers in our villages and towns, our eating habits, our morality, as aspects of our civilisation not just our religion: the civilisation of the French Republic."
See also "Sarkozy nixes halal meat in schools for Muslims", Associated Press, 3 March 2012