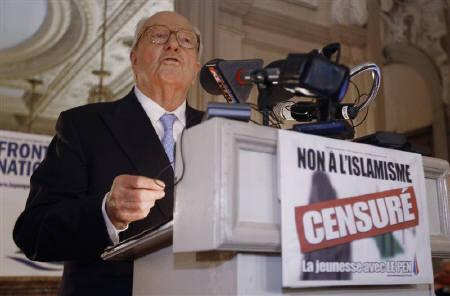 Far-right leader Jean-Marie Le Pen, playing on fears over the spread of Islam, has regained the political initiative in France with a strong result in regional elections that poses a problem for President Nicolas Sarkozy.
Bouncing back from a string of recent reversals, Le Pen's National Front won a surprise 11.74 percent of the national vote in Sunday's first round ballot and will dilute support for Sarkozy's conservative block in crucial run-offs on March 21.
Aged 81, Le Pen himself enjoyed a remarkable personal triumph, winning 20.29 percent backing in the southern French Provence-Cote d'Azur region, which has absorbed hundreds of thousands of mainly North African immigrants in recent decades.
His daughter Marine Le Pen also scored well, securing 18.31 percent support in the far north of France, where worries over industrial decline helped her cause amongst the working class.
Sarkozy himself believed he had managed to neutralise the National Front in 2007 by offering tough solutions of his own to its two main obsessions – immigration and security.
However, a government move in 2009 to organise a broad debate on national identity rekindled interest in the far right by reviving controversies over how to deal with immigrants and Islam in a country that has Europe's largest Muslim population.
"The debate on national identity brought back to the fore themes that were favourable to the National Front … and proved counter productive for the ruling party," said Henri Rey, head of research at the Sciences Po political science institute.
Le Pen, who has said the regional vote will be his last election campaign, proved astute at leveraging concerns over radical Islam, plastering billboards with a poster showing France covered by an Algerian flag, a veiled woman and minarets. "No to Islamism," read the slogan.
See also "Green shoots in France as race card backfires", Morning Star, 16 March 2010