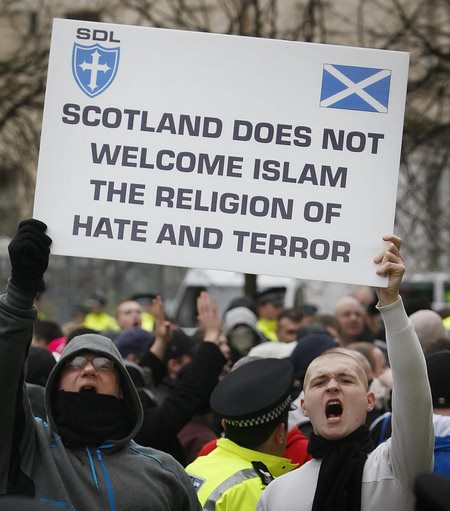 The Scottish Defence League (SDL) is planning to host a large rally in Dundee in "the next few weeks". Organiser Graham Walker said scores of people are lined up to attend the city-centre demonstration.
The controversial group have held rallies in Dundee before that have been countered by members of Unite Against Fascism (UAF). It has branded the SDL – and its sister organisation, the English Defence League – as racist.
Mr Walker said the only intent of the SDL demonstrators would be to share the group's opinions on radical Islam and immigration.
He told The Courier: "We're coming to Dundee in a few weeks, but there is not a firm date in place yet."
He added: "There are about 160,000 people living in Dundee and over 11,000 of those are immigrants. We've been contacted by a lot of people in Dundee saying that there are no jobs, no houses – and we see it as well in Edinburgh.
"We have all these problems and yet we're prepared to give money to Palestine, to Malawi – that's not foreign aid money, that is Scottish tax-payers' money. Meanwhile, our families are living on bare necessities and we think that is very wrong."
Police Scotland said plans were initially lodged with them to hold the rally this Saturday, but that these have since been withdrawn.
A counter-demonstration by the UAF had been arranged to meet the SDL's supporters.
UAF said in a statement: "The people of Dundee welcome citizens from around the world, with two universities with significant numbers of international students. Neither Dundee's residents nor the students the universities attract wish to be confronted by racists."
Mr Walker said the delay in the demonstration had nothing to do with the UAF, but was rather to do with a consideration for the officers of Tayside Division, who he said had just finished a particularly busy period with both the referendum and Ryder Cup.
---
The day when the Scottish Defence League can organise a "large rally", in Dundee or anywhere else, has yet to dawn. Despite the SDL bussing in supporters from as far away as Sunderland, their demonstration in Dundee a year ago attracted only around 50 people, who found themselves heavily outnumbered by UAF counter-protestors.