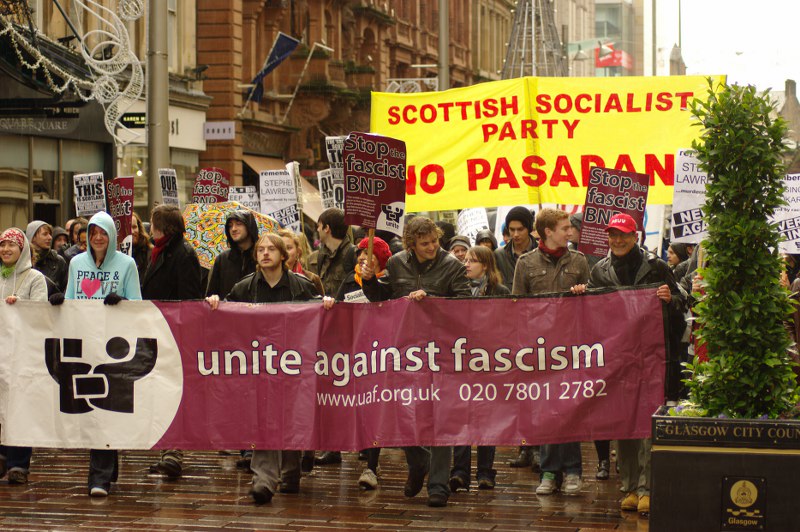 Standing precariously on a bin as thousands of people swarmed into George Square banging drums and chanting, anti-racist campaigner Aamer Anwar yesterday proclaimed a victory for the people of Glasgow over "racism, fascism and the Scottish Defence League (SDL)".
His celebration followed a day in which the far-right group's threat to march on Glasgow Central Mosque came to nothing, as police penned its members into a pub before bussing them to various spots on the periphery of the city, extinguishing the chances of a conflict before it had the chance to ignite. There were a few minor skirmishes in and around the city centre between the tiny SDL contingent and rival demonstrators, who were out in their thousands. Five people were arrested.
Although both sides claimed to have achieved their aims, the sheer numbers that mustered under the banner of Scotland United, a broad-spectrum alliance of political parties, trade unions and civil society groups, demonstrated that most of Glasgow has little truck with the 'anti-Islamic' policies of the SDL and its English counterpart.
Mr Anwar, speaking at the head of a thousand protesters as they marched into George Square, said: "Just over 100 members of the Scottish and English Defence Leagues came to Glasgow today, skulked in a pub and were then bussed off away from the city centre. We proved that the only group that the people of Glasgow would tolerate on their streets were Scotland United. I would call this a victory."
At the same time as the SDL's brief protest, the Scotland United rally at Glasgow Green heard speakers including Health Secretary Nicola Sturgeon, Scottish Tory leader Annabel Goldie, Labour MP Mohammed Sarwar and the Rev Ian Galloway from the Church of Scotland. They praised Scotland's multiculturalism and slammed the SDL, with Mr Sarwar labelling its members "nuts".
He said: "The message from here is loud and clear: BNP, Scottish Defence League, English Defence League are not allowed to march on the streets of Glasgow. Scotland is united against these thugs and fascists."
In a rousing speech, Ms Sturgeon said: "I'm proud to be standing shoulder to shoulder with Scotland's Muslim communities, with all of Scotland's communities. We are a diverse county, a multicultural county and that is what makes us strong. We are proud to defend that multiculturalism every single day or whenever it is put under attack."