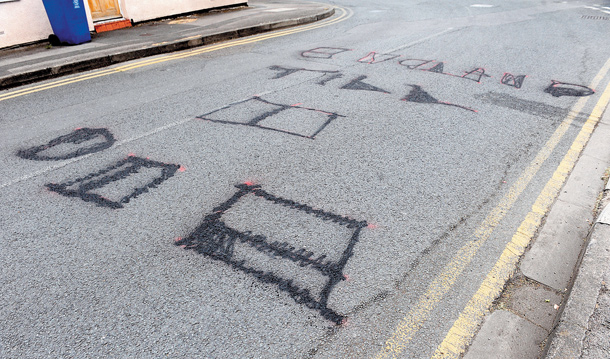 A 26-year-old man who used stolen paint to scrawl racist graffiti on Maidenhead Mosque has been spared jail.
Lee Hunt, of Lincoln Road, and Gary Nuth, 23, of Blackamoor Lane had been out drinking when they vandalised the mosque in Holmanleaze on Saturday, June 8.
Appearing for sentencing at Reading Magistrates Court on Friday, the court heard how the pair used paint stolen from a building site to vandalise the mosque, the road and a house. Hunt and Nuth wrote offensive words on the mosque's wall, and "England till I die" on the road outside.
They also painted a penis on the exterior of a nearby house.
Hunt had denied charges of racially aggravated criminal damage, criminal damage and theft. He was found guilty at a trial.
Miss Jarratt, defending Hunt, told the court that he made a mistake and has otherwise led a "blameless and faultless life". She said: "There are some people who go through life  and make a single stupid mistake. I would suggest that's what this is. He's a young man. They were drunk and very stupid. Like young men occasionally are."
Miss Jarratt added that Hunt sent a letter of apology to the mosque three days after he was interviewed by police.
Saleen Ahmed-Khan, chairing the bench, told Hunt: "These are serious offences and we intend to punish you by way of community order." Hunt was sentenced to 300 hours of unpaid community work over 12 months. He was ordered to pay £750 in court costs, £300 in compensation and a £60 victim surcharge.
Nuth admitted the charges. He was sentenced on November 1 to 270 hours of unpaid work. He was ordered to pay £150 compensation, £500 in costs and a £60 victim surcharge.