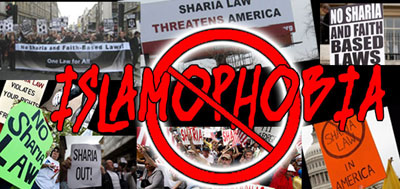 After heated debates in two dozen states over banning Sharia law, the legal code of Islam, a national Islamic group is beginning a multi-million dollar effort to explain how Sharia applies to the lives of American Muslims.
The Islamic Circle of North America, a New York-based group, is spending $3 million on its Defending Religious Freedom campaign, which kicks off Monday and explains Sharia law and common misunderstandings to everyday Americans.
The effort includes billboards, TV and radio ads in 25 major cities, including New York, Los Angeles and Chicago, in addition to town hall meetings and seminars on university campuses led by Muslim academics and activists. Each directs audiences to a website and manned hotline, 1-855-Shariah.
The campaign is a response to efforts to ban Sharia law over the last two years in state legislatures and on ballot initiatives, said Naeem Baig, vice president of public affairs for Islamic Circle of North America. Republican presidential candidates also have raised the Sharia debate.
"It's a small minority of Islamophobes that are pushing the anti-Sharia bills, but it's becoming mainstream. Now, even presidential hopefuls like Newt Gingrich and Rick Santorum are talking about Sharia," said Baig. "We see it not only an issue of Sharia but an issue of broader religious freedom."
Baig said comments by Gingrich helped spur the campaign. The GOP contender said in South Carolina in January that he would support a Muslim-American president only if that person denounced Sharia. In a 2010 speech in Washington he summarized the anti-Sharia movement: "Stealth jihadis use political, cultural, societal, religious, intellectual tools" as a way to "replace Western civilization with a radical imposition of Sharia," Gingrich said.
For another initiative aimed at countering sharia hysteria in the US, see "CAIR releases community toolkit to challenge 'anti-Sharia' bills", CAIR press release, 1 May 2012