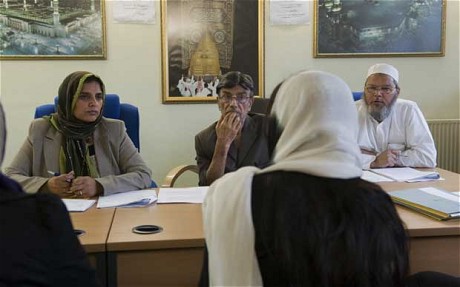 Sharia council in Birmingham holds divorce hearing
A leading barrister has called for the UK to become more sharia-literate, while arguing that Islamic law can be compatible with the toughest human rights legislation.
Sadakat Kadri told the Guardian that so-called "sharia courts", such as the Muslim arbitration tribunal, could serve "the community as a whole" by putting Sharia on a transparent, public footing and should be more widely accessible to those who want to use them.
Kadri said they played a role in safeguarding human rights: "It's very important that they be acknowledged and allowed to exist. So long as they're voluntary, which is crucial, it's in everyone's interests these things be transparent and publicly accessible. If you don't have open tribunals, they're going to happen anyway, but behind closed doors."
In 2008, Rowan Williams, archbishop of Canterbury, sparked controversy when he appeared to suggest that sharia law should be more widely adopted. In fact, under the Arbitration Act 1996, the rulings of religious bodies, including the Muslim arbitration tribunal, already have legal force in disputes involving matters such as inheritance and divorce.
Terry Sanderson, president of the National Secular Society, has long opposed the use of sharia in the UK, and argued the rule of law "must not be compromised by the introduction of a theocratic legal system operating in parallel".
But Kadri, a barrister and contemporary of Barack Obama at Harvard Law School, stresses the ability of sharia to adapt and change. He sets out the history of sharia in a book, Heaven and Earth, to be published next week.
See also "Growing use of Sharia by UK Muslims", BBC News, 16 January 2012
---
The BBC report quotes Diana Nammi of the Iranian and Kurdish Women's Rights Organisation as saying: "We think there shouldn't be any religious law practising in Britain – all Sharia bodies should be banned. That is the only way we can ensure equality of justice for all women."
The report also gives a summary of the case of Saba Zia, who pays tribute to the role of a sharia council in helping her obtain a divorce from her husband who had abandoned her and their children: "I felt like I wasn't alone. They recognised my rights and they helped me move on with my life."
If secular dogmatists like Nammi and IKWRO had their way, of course, observant Muslim women like Saba Zia would be trapped in failed marriages and denied a religiously recognised divorce. Some defence of women's rights.