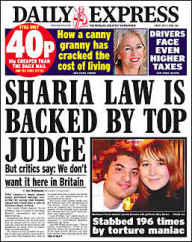 The country's most senior judge provoked outrage yesterday by saying that Islamic sharia law could play a role in Britain's legal system. The Lord Chief Justice, Lord Phillips, was accused of handing Muslim extremists yet more ammunition.
Reopening the bitter row over the position of Islamic law, he said there was no reason why it could not be used for contractual agreements and mediation in areas such as family disputes and marriage. He claimed it was possible for people to have agreements "governed by a law other than English law".
The Lord Chief Justice spoke out five months after the Archbishop of Canterbury faced calls to resign when he claimed that incorporating aspects of the Muslim legal system into British law was now "unavoidable" and "appropriate". Lord Phillips last night faced a storm of protest as Downing Street appeared to immediately distance itself from his views.
Tory MP Philip Davies said: "This is totally unacceptable. There is no place for sharia law or any aspect of it in the legal system. We have our own legal system here and anyone in this country should accept our laws and the way we do things. The Lord Chief Justice does not understand how damaging these kind of remarks are to community cohesion."
For a more balanced report, see the Guardian, 4 July 2008
See also Madeleine Bunting and Inayat Bunglawala at Comment is Free.