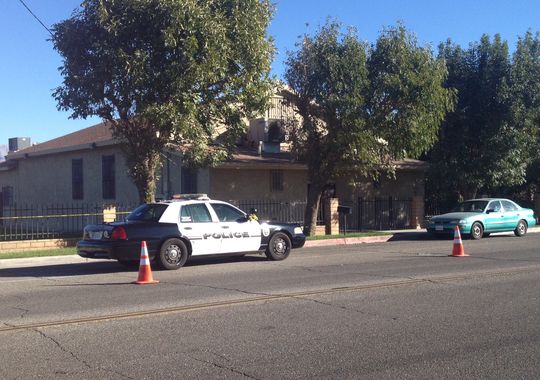 Someone opened fire on a mosque in Coachella early Tuesday and the shooting is being investigated as a possible hate crime.
At about 5 a.m., investigators were called to the Islamic Society of the Coachella Valley, 84-650 Avenue 49, according to the Riverside County Sheriff's Department.
They determined several shots were fired at the building and a Toyota Corolla that was parked outside. Two bullet holes were visible in front of the mosque and two in the car.
The mosque was occupied at the time of the attack, but no one was injured, according to the Greater Los Angeles Area office of the Council on American-Islamic Relations (CAIR-LA), citing police sources. One worshiper said four people were inside.
Investigators surrounded the one-story building with yellow tape and blocked westbound lanes. Other details haven't been released and investigators ask anyone with information to call (760) 863-8990.
CAIR-LA is calling for an FBI investigation.
"Any time shots are fired at a house of worship, the FBI should offer its resources to local authorities to help determine whether or not there was a bias motive for the attack," said CAIR-LA Executive Director Hussam Ayloush. "Our nation's leaders also need to speak out against the growing level of anti-Muslim sentiment that can lead to such incidents."
Ayloush thanked local police for their prompt and professional response to the incident.
Last month, CAIR called on state and federal law enforcement authorities to investigate a firebomb attack on an Albuquerque, N.M., mosque as a hate crime. CAIR's San Diego chapter also asked the FBI to investigate a threatening letter with an unknown substance sent to a local Mosque.
CAIR is America's largest Muslim civil liberties and advocacy organization.
The Desert Sun, 4 November 2014
See also "CAIR-LA calls for FBI probe of shots fired at California mosque", CAIR press release, 4 November 2014