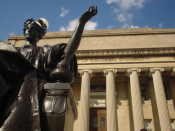 When David Horowitz returns to Columbia University next Friday to mark his organization's much-hyped "Islamo-Fascism Awareness Week" (IFAW), he will find a determined and "dangerous" opposition, coming from a coalition of concerned students and up to nine of Horowitz's "101 Most Dangerous Professors".
"NOT ON OUR CAMPUS", counter the flyers being circulated by the hundreds from Columbia's Intercultural Resource Center, as students prepare for a major speakout and counter-event on Friday. Many here see Horowitz's visit as an insult and an injury to a campus community still reeling from a slew of racial attacks this semester, most recently a noose hung on the door of a Black professor at Teachers' College.
"What it does," added Noah Baron of Columbia Students for a Democratic Society, "is it builds on people's fears… And it makes it more difficult to discuss things that are already difficult to discuss … racism, anti-Semitism, homophobia, Islamophobia, and things like that."
Many students at Columbia don't buy the "Islamo-Fascism" talk in the first place. The term only gained currency after President Bush picked it up as a mantra in 2006. Rahel Aima of Columbia SDS sees it as a fiction: "Islamo-Fascism is constructed … [They say]  'We don't like Islam, we think fascism is bad, let's put them together'… And they're like, 'If you're not with us, you're fascists'."
With IFAW, Horowitz, an ex-Leftist-gone-Right, is taking on two of his favorite enemies: Left-wing faculty and Muslim youth. In a recent statement, he claimed that "the progressive left is the enabler and abettor of the terrorist jihad", and in the same document, he called the Muslim Students Association (MSA) a "front for the Muslim Brotherhood and Hamas".
Nationwide, Muslim students and other advocates have launched a rapid response to IFAW and the Horowitz offensive. The MSA recently announced its "Peace Not Prejudice Campaign". As national organizer Asma Rehman put it, "The MSA is trying to reclaim the discourse from the hands of intolerant extremists who smear and distort Islam to further their own racist agendas".
Ibrahim Ramey, Human and Civil Rights Director for the Muslim American Society (MAS Freedom), added that, in his view, countering IFAW is also about countering "the longer-term political agenda of Horowitz and company to further consolidate American state power, military power, and transnational capital at the expense of real democracy and social justice".
Many students see the situation in a similar light, in which Columbia is just one front in a much larger offensive. As activist Sam Rennebohm pointed out, "It connects to the war in Iraq, it connects to the way that rhetoric is used against Iran … And it's interesting to look at the similarities between a national resurgence in racism and Islamophobia and similar actions on our campus."