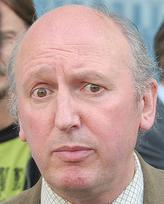 Anti-Islam campaigners have been locked in a bitter row with Muslims and anti-fascists ahead of a planned 9/11 protest.
Stop the Islamisation of Europe (SIOE), which has a number of branches on the continent, is organising the demonstration outside Harrow Central Mosque but has been accused of racism over its beliefs. A Facebook event hosted by the English Defence League (EDL) and Casuals United, who are also attending the rally, has been peppered with criticism.
SIOE's moto is: "Racism is the lowest form of stupidity. Islamophobia is the height of common sense," and members say they do not believe in moderate Muslims. Stephen Gash, of SIOE, says Islamophobia is not racist and accuses the western media of being biased, selectively failing to report immoral acts he claims have been committed by Muslims around the world.
Sarah Cox, 72, of Unite Against Fascism (UAF), said: "They claim they are not racist in that they are not against people because of the colour of their skin but because of their religion. But given that a lot of people who come from Islamic backgrounds may not be particularly religious but identify themselves as Muslim for cultural reasons it's as racist as the antisemitism of the Nazis. It's a form of irrational discrimination."
EDF and Casuals United are made up of football supporters and some say many are football hooligans. Mr Gash said the EDF and Casuals United were for more "boisterous" people. He said: "I didn't see any violence at the protest in Birmingham. If they do the same things as in that demonstration I will not have a problem with them."
Local branches of the UAF, from Brent and Harrow, are newly formed specifically to tackle this issue and include members of traditional left wing groups including trade unions.
See also Harrow Observer, 26 August 2009
And "Unite Against Fascism to counter 9/11 Harrow Mosque protest", Harrow Times, 26 August 2009