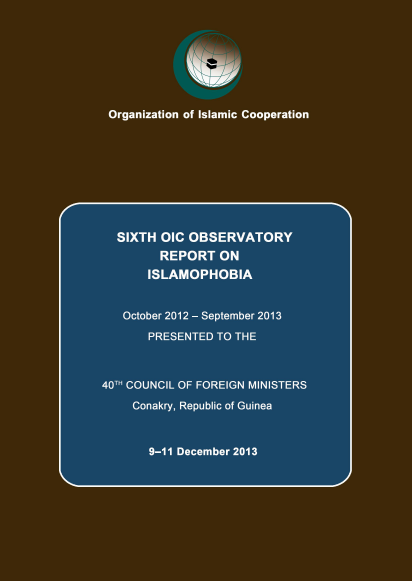 The OIC Islamophobia Observatory released its Sixth Annual Report covering the period from October 2012 to September 2013 today at the commencement of the 40th Session of the Council of Foreign Ministers in Conakry, Republic of Guinea. The Report dwells extensively on the worrying trend of Islamophobia as a clear and continuing danger to global peace and security and ends with a set of recommendations, outlining a strategy to combat Islamophobia and growing intolerance and prejudice against Muslims through concerted international action, which merits particular attention.
The Report includes five chapters that amply reveal the ongoing and unabated Islamophobic practices in different parts of the world, particularly in some Western countries. A number of independent reports by credible institutions in the West on Anti Muslim Action confirmed the Observatory's position that anti-Muslim rhetoric has become increasingly widespread, which, in turn, has contributed to the increase in the actual number of hate crimes committed against Muslims. Such xenophobic environment also affects the sociological and psychological state of affected Muslims thus exposing them to greater stress and other forms of moral prejudice in their daily lives.
The Report emphasized that Islamophobia, which has become a contemporary manifestation of racism, is a clear violation of the well acknowledged norm of respecting cultural diversity and a threat to the multicultural fabric of the affected societies. Its impact on the regional and global peace and security is also a factor of grave concern. As stated in the past, the OIC reiterates that such discriminatory practices are contrary to all established norms of international human rights law and exacerbate tensions among peoples at all levels.
OIC Secretary General, Prof. Ekmeleddin Ihsanoglu, appreciated the 6th Annual report on Islamophobia in highlighting various forms of discrimination faced by Muslims in Western societies and urged Member States to strengthen the Observatory. He recalled that discrimination on the basis of one's religion or belief is a violation of international human rights law and urged concerned Member States to take concrete steps to address the incitement to advocacy of racial or religious hatred in accordance with their international obligations, well established in International Convention on Civil and Political Rights (ICCPR). Prof. Ihsanoglu also urged OIC Member States to take up this issue with their Western counterparts in their bilateral consultations and highlighted the importance of enhanced efforts to strengthen interfaith and intercultural dialogue at all levels, as a tool to address the root cause of mistrust and misperception among peoples of different faiths and civilizations.
Professor Ihsanoglu recalled his personal commitment and OIC's determination to addressing the scourge of Islamophobia by taking all necessary measures at different levels. The success of his efforts in engaging world leaders and eminent stakeholders to combat Islamophobia has been reflected prominently in the Report. In this context, the Report underscored the relevance and importance of the UN HRC Resolution 16/18 as a practical and effective means to addressing Islamophobia and combating all forms of intolerance, stigmatization, discrimination and negative stigmatization based on religion and belief.
The Report can be downloaded here.