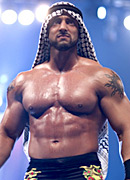 Sky Sports has been censured by a media watchdog for resurrecting a character from the larger than life world of American wrestling who had been "killed off" after being accused of inciting anti-Muslim sentiment among fans.
World Wrestling Entertainment, the successor to the World Wrestling Federation franchise that became popular in the UK during the 1990s, was forced to axe the character of Muhammad Hassan from the ring after complaints in the wake of the July 7 London bombings.
But Sky Sports was yesterday censured by the media regulator Ofcom after the digital channel included the character in a programme which went out just over two weeks later on July 25.
The Great American Bash, a highlight of the WWE calender, brought together characters from its Raw and Smackdown strands of programming.
The character, played by an American, Mark Copani, entered the ring wearing an Arab headdress and surrounded by a phalanx of masked men in combat clothes who were described by the commentators as his "sympathisers".
There was also use of emotive language, including the words "martyr", "sacrifice" and "infidel" and footage of a previous clash between him and another wrestler was set to music that sounded like the Muslim call to prayer.
After the programme, Sky approached WWE to ensure the character would be withdrawn, and it ended his contract.