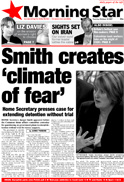 Smith creates 'climate of fear'
By James Tweedie
Morning Star, 23 October 2007
HOME Secretary Jacqui Smith appeared before the Commons home affairs committee on Monday for questioning on government plans to extend detention without trial for terror suspects.
The government is considering increasing the limit the current 28-day limit to 56 days – or even to an indefinite period with judicial oversight.
It is also examining the use of phone tap and other "intercept" evidence, imposing "enhanced" sentences for non-terrorist offences committed for a terrorist purpose and broadening the definition of terrorism to include acts carried out for racial and ethnic as well as political aims.
Ms Smith told MPs that the "time is right" for extending the maximum period beyond 28 days. But she admitted that there had not yet been a case where longer than the current four-week limit has been required.
Committee chairman Keith Vaz warned that extra detention power could disproportionately affect Muslims. "The worry about this is that we then stigmatise whole communities and, in my view, that is the road to ruin," he said.
Human rights campaign Liberty director Shami Chakrabarti also warned that Britain was heading for a state of "permament emergency".
"The Home Secretary's revelation that the case has not been made for extending pre-charge detention will be met with considerable surprise," she said. "There has been so much posturing by so-called experts that few people have remembered to ask for the hard evidence before any change is made."
Fellow campaigners Human Rights Watch (HRW) released a briefing paper on counter-terrorism measures yesterday, entitled UK: Counter the Threat or Counterproductive? HRW associate Europe and Central Asia director Benjamin Ward said: "Locking up suspects without charge for months at a time is wrong in principle and wrong in practice. It violates the basic right to liberty and risks alienating British Muslims."
The HRW paper pointed out that less than half of those detained under counter-terrorism powers have been convicted. It says:
"Adopting powers that allow terrorism suspects – many if not most of whom would doubtless be British Muslims – to be detained without charge for months at a time would be deeply damaging to the government's efforts to win 'hearts and minds.' Judicially supervised pre-charge detention without time limits would amount to the reintroduction of internment, a policy widely acknowledged to have alienated communities in Northern Ireland."
Mr Ward noted that Counter-terrorism Minister Tony McNulty has acknowledged that "the rules of the game haven't changed" on civil liberties. "The government is finally saying the right things about human rights and security, but the proof will be in the policy," he said. "If the government is serious about playing by the rules, it should shelve extended pre-charge detention."
Campaign Against Criminalising Communities spokesman Les Levidow added: "The analogy with Northern Ireland is entirely correct. That is why we have always called detention without trial internment. It's punishment without trial. The proposals to extend pre-trial detention and introduce post-charge questioning by police are designed for political harrassment."
"These powers have been disproportionately targeted against Muslims. Clearly, the political aim is to intimidate these communities," Mr Levidow continued. "These powers are not needed to protect us from violence. They are part of the government's political aims of suppressing freedom of speech and creating a climate of fear."