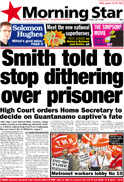 Smith told to stop dithering over prisoner
By Louise Nousratpour
Morning Star, 27 July 2007
THE High Court ordered Home Secretary Jacqui Smith yesterday to stop dithering and decide whether a British resident being freed from Guantanamo Bay can return to live in Britain by August 9.
Campaigners urged the minister to act swiftly to allow Jamil el-Banna's return and also to demand that the US release at least five other British residents who have been held for several years at the torture camp.
Mr Justice Beatson gave Ms Smith until 4pm on that date to either revoke Jamil el-Banna's refugee status or confirm that he will be allowed to return and live with his wife and children – all of whom are British nationals – in London.
The judge set the deadline as he gave Mr el-Banna's solicitors permission to seek judicial review of the government's failure to confirm that he will be allowed to return.
The Home Secretary did not oppose the application.
Legal justice campaign Reprieve, whose members have represented British detainees in Guantanamo, welcomed the High Court decision.
Senior counsel Zachary Katznelson said: "The Americans say Mr el-Banna is not a threat to anyone. All Britain has to do now is say he can come home to his wife and children. What are they waiting for?"
Mr el-Banna's lawyers have argued that he has been unlawfully detained by the US in its so-called "war on terror" for nearly five years.
In May, British authorities told his lawyers that he had been cleared for transfer and could "choose" to remain at Guantanamo or return to his native Jordan, where he was tortured before becoming a political refugee with indefinite leave to remain in Britain.
But campaigners told ministers to "stop dodging the issue" and allow him back into Britain to either face trial or be released.
Left Labour MP John McDonnell hailed the High Court ruling as "excellent news," insisting: "The government must act immediately to allow Mr el-Banna to reunite with his family in Britain. Britain has been complicit with the Bush regime in allowing British citizens and others to be illegally held and, by refusing to enable the return of Mr el-Banna, it has assisted in this abuse of human rights."
A Stop the War Coalition spokesman demanded a "clear statement" from the government that he can return to Britain. "The detention in Guantanamo of anyone with right of British residence is an outrage and ministers should stop dodging the issue," he said.
An Amnesty spokesman called the High Court ruling "long, long overdue." He added: "We would urge the Home Secretary to move quickly to confirm that Mr el-Banna can finally be returned to his family in the UK. The government also needs to call for the fair trial or release of at least five other long-term UK residents held for several years at Guantanamo. It's time the UK stood up for these forgotten prisoners."
On Wednesday, MPs highlighted Mr el-Banna's case in a report accusing the US of ignoring restrictions placed on the use of intelligence about Mr el-Banna and his friend Bisher al-Rawi when they were arrested in Gambia in 2002.
The parliamentary intelligence and security committee said that the "rendition" of the two men in the face of protests by MI5 and the government had shown a "lack of regard" on the part of that country for British concerns. "This has serious implications for the working of the relationship between the US and UK intelligence and security agencies," the report warned.
Ms Katznelson said that the report showed that it was the "incompetence and inattentiveness of the British government that led to Mr el-Banna being arrested and rendered to Guantanamo Bay. "The report confirmed that the British government fed the Americans false information, which, five years later, they have still not corrected," she charged.
Mr el-Banna's family and supporters have launched a petition, entitled Justice for Dad, demanding his immediate return to Britain, "whereupon he should either face trial or be released."
All British citizens who were detained at Guantanamo have now been allowed to return to Britain.