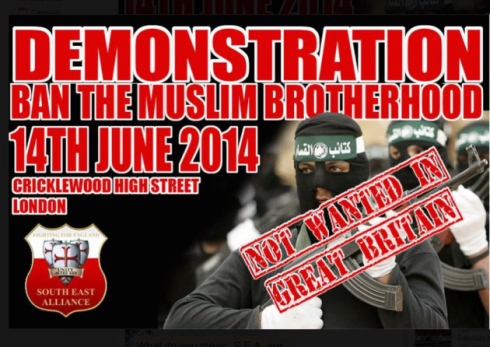 A far-right organisation is planning to hold a protest outside the headquarters of a major Egyptian political group in Cricklewood on Saturday.
Members of South East Alliance (SEA) are due to demonstrate outside the headquarters of Muslim Brotherhood (MB) which is based in a flat above shops in Cricklewood Broadway.
MB was a praised political group in Egypt but were ousted from power amid popular demonstrations. They are believed to be launching a fight-back against Egypt's military rulers from their new home.
SEA have denied speculated links to the English Defence League claiming they are "a non-political community based street movement". However, their Facebook page is filled with anti-Muslim posts.
Brent and Harrow Unite Against Fascism plan to hold a counter-protest and are calling for people to join their stance against SEA.
A UAF spokeswoman said: "They (SEA) have deliberately called this event on the same day as Unite Against Fascism's Conference, but UAF will not allow them to disrupt it. We are confident that there will be sufficient local opposition to make it clear that there is no room for anti-Muslim, anti-Irish bigots in our community."
UAF are meeting at 113 Cricklewood Broadway at 11am. SEA are expected to start demonstrating at noon.
In January, members of far right group Britain First (BF) held a similar demonstration outside MB's offices with twice as many people protest for UAF simultaneously.
---
The claim that an office over the Cricklewood Broadway shop was acting as "the centre of operations for Egypt's once-mighty Muslim Brotherhood" was first published in the Daily Mail, which was what prompted the earlier Britain First protest. Whatever co-ordinating role the Cricklewood office was playing for Muslim Brotherhood supporters in London, after that publicity it would almost certainly have ceased to do so.
As for the SEA, they are a breakaway from the English Defence League led by the EDL's former South East organiser, who goes under the name of Paul Pitt. His real name in Paul Prodromou, but obviously if you're going to wage a vicious anti-immigrant campaign as the SEA does it's not helpful to have a name that indicates your own family is of recent migrant origin.