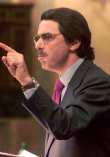 Former prime minister Jose Maria Aznar has criticized Muslim demands for the pope to apologize for his remarks about Islam.
Speaking Friday night at the Hudson Institute, a thinktank in Washington, Aznar noted the nearly 800-year Moorish occupation of Spain, which began in the year 711 with an invasion from North Africa.
He said in English: "I never (heard) any Muslim apologize (to) me (for) conquer(ing) Spain and to maintain a presence in Spain during eight centuries."
"What is the reason … we, the West, always should be apologiz(ing) and they never should … apologize? It's absurd."
He also criticized an initiative launched by his Socialist successor, Jose Luis Rodriguez Zapatero, to encourage dialogue between the West and Muslim countries. It is called the Alliance of Civilizations and has been formally adopted by the United Nations.
Aznar said some Muslim countries such as Iran are too radical to engage in dialogue with. "For me the alliance of civilians is a stupidity," Aznar said.