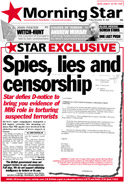 Human rights campaigners demanded a full inquiry yesterday into mounting evidence that MI6 agents were involved in the abduction and torture of terror suspects in Greece.
The Ministry of Justice in Athens has launched its own inquiry into allegations that 28 Pakistanis were held and mistreated in the wake of the July 7 London bombings.
Greek lawyer Frangiskos Ragoussis has filed a criminal complaint against eight Greek agents and one British agent – Athens MI6 station chief Nicholas Langman – for the alleged abuses. If formal charges are filed, Mr Ragoussis said that he will seek Mr Langman's extradition.
The controversy deepened after British newspapers colluded with a voluntary government "D-notice" to prevent them from naming Mr Langman, although Greek Sunday newspaper Proto Thema – with the biggest circulation in the country – had already revealed his identity, adding that he had plotted the operation on Greek soil.