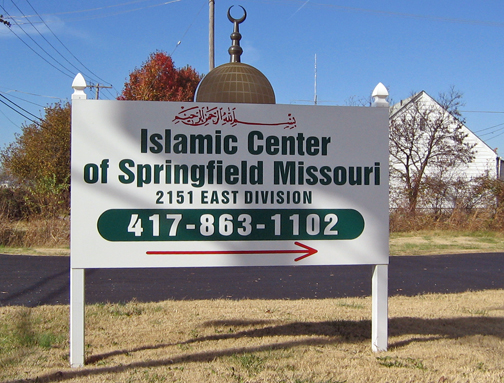 Leaders of the Islamic Center of Springfield say they received a threatening letter targeting Muslims on Sunday and earlier that day found charred remains of three Qurans.
The anonymous letter says that Muslims "stain the earth", and the author vows "Islam will not survive". A copy of the letter was provided by the Rev. Mark Struckhoff, executive director for the Council of Churches of the Ozarks. At the end of the five-line typed letter is a drawing of a ram's head with the slogan "Death to Islam!" printed below it.
"I do not understand. What are they gaining from this?" asked Wafaa Kaf, coordinator of the women's section at the Islamic Center and one of the center's leaders who described the charred books. "Have they accomplished anything? Are they happy now?"
This isn't the first reported crime against the Islamic Center, 2151 E. Division St. On Jan. 8, worshippers were confronted with hate-filled graffiti scrawled across the walls of the building.
"You bash us in Pakistan. We bash you here," the red spray paint said. Other messages were sexual, including a drawing of a penis near the women's entrance and a reference to Allah being gay. Two days later, another act of vandalism broke off an exterior water spigot. However, the FBI did not initiate a hate crimes investigation into those incidents.
See also CAIR press release, 14 April 2011
Update:  See "Bigotry at Islamic Center is an affront to all", editorial in News-Leader, 15 April 2011