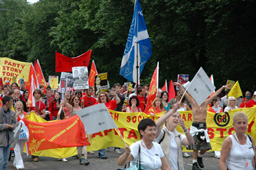 The Scottish Socialist Party Executive last night unanimously agreed to support the call by the Muslim Association of Britain for an all Britain demonstration on 24th September in support of civil liberties, support for the victims of the London bombings, the condemnation of terrorism and in solidarity with the Muslim community in Britain.
Two of the SSP's MSPs, Colin Fox and Tommy Sheridan will speak at public meetings in Edinburgh and Glasgow in the run up to the demonstration.
Colin Fox, SSP national convenor, today highlighted the headlong assault on civil liberties by the New Labour government since the July 7th London bombings and the massive rise in anti Muslim racism that has swept the UK in the aftermath of the terrorist attacks.
Religious hate crimes, mostly against Muslims, have risen six-fold in London since the bombings, figures show. There were 269 religious hate crimes in the three weeks after 7 July, compared with 40 in the same period of 2004.
Racist attacks in Scotland have risen by almost a quarter since the London bombings, according to police figures. There were 438 incidents reported from 7 July to the end of the month. That was up by 79 on last year, with 64 of those directly linked to the bombings.
Colin said today: "The SSP unequivocally denounced the terrorist bombs in London immediately after the attacks and we do so again today. These were acts of barbarism that have no place in society and the fact that amongst those killed were several devout Muslims shows that the bombers were in no way a part of the Muslim community a whole.
"The headlong rush into repressive legislation by the government must be resisted by all progressive forces in society; repression will never defeat terrorism as 30 years of history in Northern Ireland shows. The legislation the government is proposing is absolutely draconian and the SSP will be joining with the Muslim Association of Britain and other organisations in opposing this grave threat to our civil liberties.
"We stand together with the Muslim community in opposing the wave of racism and anti Muslim violence that has swept the country following the bombings in London. The SSP calls on all it's members and supporters to make their voice heard in opposition to racism and Islamophobia and against the draconian measures being put forward by the New Labour government."