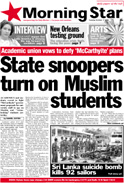 State snoopers turn on Muslim students
By Daniel Coysh
Morning Star, 17 October 2006
ACADEMICS and students vowed to fight "McCarthyite" government proposals for university staff to spy on Muslim and "Asian-looking" students yesterday. Lecturers' union UCU and the National Union of Students both insisted that the proposals were unacceptable and would be vigorously opposed.
Reports said that The Department for Education and Skills (DfES) is drawing up plans to ask universities and colleges to inform on students to Special Branch. As the hysteria surrounding Islamist "extremism" threatens to completely engulf British political discourse, a leaked 18-page consultation document raised fears that Britain's universities have become "fertile recruiting grounds" for radical groups.
But UCU joint general secretary Paul Mackney pointed out that "radicalisation is not the same as violent extremism or terrorism."
He said: "The government's premise is wrong. Radicalisation is not the result of Islamist segregation but government policy, especially in Afghanistan, Palestine and Iraq. UCU has expressed its concern to the minister that our members may be sucked into an anti-Muslim McCarthyism, which has serious consequences for civil liberties by blurring the boundaries of what is illegal and what is possibly undesirable."
The document calls for university authorities to closely monitor campus Islamic societies, particularly if they invite "radical speakers" to address their meetings. It suggests that checks should be made on guest speakers at such meetings.
Fellow UCU joint general secretary Sally Hunt insisted: "We will not accept further government attempts to restrict academic freedom or free speech on campus. There is little point in having these nominal freedoms if they can be removed when certain people don't like what they hear."
NUS national president Gemma Tumelty warned that creating a snooping culture on Britain's campuses could prove counterproductive to anti-terrorism measures. "Demonising and stigmatising student communities is no way to defeat terror," insisted Ms Tumelty. "Indiscriminate monitoring of groups on campus assumes collective guilt. This will only fuel the racism and Islamophobia that our society should be trying so hard to stamp out."
University vice-chancellors also rejected the proposals. Universities UK president Professor Drummond Bone said: "Not only is this unreasonable but, crucially, it could be counter-productive. The key to this is balance and discussion and we have made this point repeatedly to ministers."
The government played down the reports, with a spokesman for the DfES claiming that "the guidance has not been finalised. It is pure speculation to say what is going to be included."
Communities Secretary Ruth Kelly continued the government's campaign yesterday when she held talks with police and local council officials, demanding to know whether they are doing enough to root out "extremism" in schools, colleges and universities and whether they had identified "hotspot" neighbourhoods which could be breeding grounds for radical Islam.
Muslim Council of Britain secretary general Dr Muhammad Abdul Bari warned that "ministers are not helping in this discourse within the Muslim community."
He said: "What they are doing is trying to undermine and marginalise further the Muslim community, especially those organisations which have been working so hard for community cohesion."