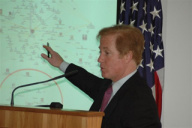 "Tonight, hundreds, if not thousands, of Muslims will convene in American arenas, conventions halls, and mosques. Steven Emerson, an internationally recognized expert on terrorism who will speak in Jackson Hole on July 27, has witnessed such meetings and has infiltrated these groups.
"He says these gatherings feature a speaker who will call for the worldwide extermination of Jews and Christians. The audience will respond with blood-curdling shouts of 'Allah Akbar' and 'Destroy the West', their fists and weapons raised high. Available will be instructional videos for sale on the proper handling of self-propelled grenades. Flyers will advertise boot camps in Turkey, Syria and Afghanistan. A coloring book entitled 'How to Kill the Infidel' will be available for kids."
Self-styled "security expert" Steven Emerson offers the citizens of Jackson Hole, Wyoming, his insights into the life of the US Muslim community.