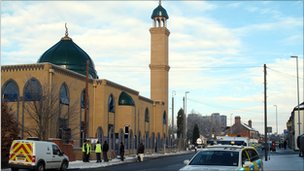 Two men have been charged in connection with a fire at a mosque in Stoke-on-Trent.
Emergency crews were called when live CCTV footage showed smoke coming from the mosque in Regent Road, Hanley, at about 0630 GMT on 3 December, 2010.
Two men from the city, aged 23, and 28, have been charged with arson with intent to endanger life. Staffordshire Police said the men were due to appear before North Staffordshire magistrates on Friday.
See also The Sentinel, 25 March 2011
Update:  See "Hanley mosque arson attack suspects bailed for crown court", The Sentinel, 26 March 2011
Further update:  See also "English Defence League activist charged with arson & intent to endanger life", Exposing the English Defence League, 28 March 2011