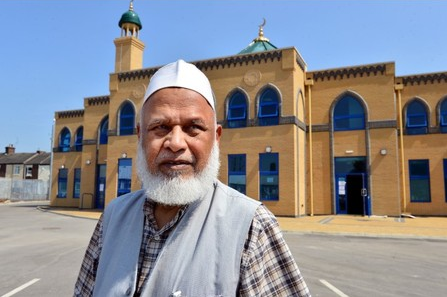 A city centre mosque has finally opened its doors – after years of delays and an attempt to blow it up. The building, in Regent Road, Hanley, is now being used for prayers ahead of its official completion.
Plans for the Islamic centre were first tabled back in 2000, but the project sparked controversy after it emerged Stoke-on-Trent City Council had agreed to lease the site for a £1 peppercorn rent. The mosque suffered a further setback after a plot to blow up the building caused more than £50,000 of damage.
But the £2 million mosque is now nearly finished and is expected to be officially opened next month. In the meantime it has been opened for prayers for the holy month of Ramadan.
Islamic centre director Rana Tufail said: "Everything is not yet complete but we are using it every day for prayers. The month of fasting started on July 10 so we were keen to start using it for then. The community is very satisfied, they are very keen to use the new place."
The cost of the mosque is expected to reach £2.2 million by the time it is completed – all of which has been raised by the Muslim community.
Classes are still being held at the Islamic Centre in Shelton, and Mr Tufail said the centre's future had not been decided. He said: "We are still not sure whether Shelton will remain open, it depends how the community feels."
The Regent Road project caused political uproar after the council was criticised for not consulting its members about the plans, and the decision to lease the land for £1 attracted criticism from many residents. The site was later bought from the council for £70,000.
In December 2010, 23-year-old soldier Simon Beech, from Hartshill, recruited Garreth Foster to help him start a fire at the mosque after being angered by extremist Muslims burning poppies. The pair connected a pipe to a live gas main and fed into the first floor of the building before lighting a fire on the ground floor.
Firefighters put out the fire before it took hold, but the attack caused £53,000 of damage and set the project back for 12 months. The mosque was not insured and the money had to be raised again. Beech and 29-year-old Foster, from Stoke, were both jailed for 10 years after being found guilty of arson.
Mosque chairman Amjid Wazir, Stoke-on-Trent City Council Labour member for Hanley Park and Shelton, said: "We have had our setbacks but we are really chuffed with it. There are bits and pieces that need finishing off, and we are hoping to have it properly opened in late August. We wanted to have it opened for Ramadan because our old place in Shelton is not big enough. People are more comfortable now we have got a bigger place. We are getting 300 to 400 people for night-time prayers."
Mr Wazir said the mosque would be an asset to the city. "We are encouraging not just Muslims but all communities to come along and see what we are doing," he said. "We have got a community centre which we want everybody to use. It is a good success story."