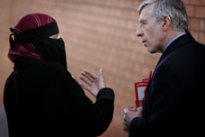 The UK's growingly multiculturalism requires a reinterpretation of what it is to be British, Jack Straw has said.
Writing in The World Today, a monthly periodical published by thinktank Chatham House, the leader of the Commons believes unity can only be achieved around a citizenship fostering universal values of democracy and freedom.
These values should be linked to citizenship by referring to the British experience of the last 1,000 years – from Magna Carta, the civil war and the "fight for votes" to "the fight now against unbridled terror", he writes.
"How can ethnic minorities play more of a part in British society? Jack Straw thinks he has the answer. They 'must subscribe to … the core democratic values of freedom, fairness, tolerance and plurality that define what it means to be British', he writes today in an article for the Chatham House thinktank. 'It is the bargain and it is non-negotiable.'
"This is not the first time the leader of the House of Commons and MP for racially mixed Blackburn has discussed the rights and responsibilities of ethnic minorities. His latest salvo stacks the responsibilities heavily on the side of immigrants and their descendants. Mr Straw's string of abstract nouns are as distant from life on the street as the fluffy white clouds up above, but still our ethnic minorities must understand and accept them. Only then, apparently, will they deserve the rights that come with being British."
Editorial in the Guardian, 30 April 2007
Straw's Chatham House article can be read (pdf) here.