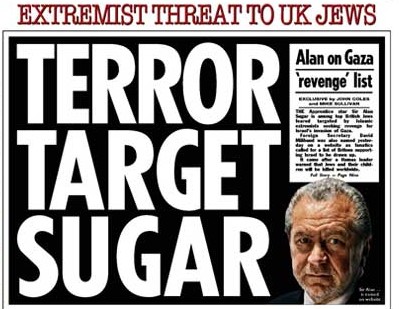 The Press Complaints Commission is investigating a front-page story in the Sun newspaper that claimed Islamic extremists were targeting The Apprentice star Sir Alan Sugar.
On 7 January the Sun's front page splash, under the headline "Terror Target Sugar", quoted claims by "anti-terror expert" Glen Jenvey that online Muslim forum Ummah.com was being used by extremists to target leading British Jews in revenge for Israel's invasion of Gaza.
The Sun subsequently removed the story, which carried the bylines of John Coles and Mike Sullivan, from its website.
The Sun story named Sugar, singer Amy Winehouse, producer Mark Ronson and Labour peer Lord Levy as among those allegedly being targeted by Islamic extremists. It quoted a contributor on the forum called "Abuislam" asking: "Have we got a list of top Jews we can target? Can someone post names and addresses?"
However, in another posting on Ummah.com, it was alleged that Abuislam was in fact Jenvey himself and claimed this had been confirmed from his IP and email addresses. The Bloggerheads website also claimed Jenvey had posted the comment himself.
The PCC has launched an investigation and will consider whether Abuislam is Jenvey. The regulator has contacted the Sun and is awaiting the paper's response.
It is understood that the Sun story originated from a news agency.
The Sun declined to comment on why it had removed the story from its website.