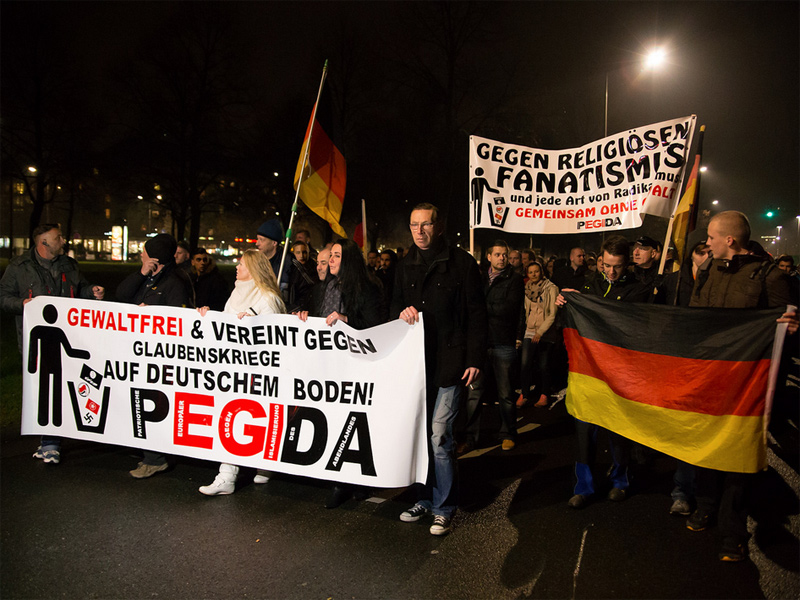 About one third of Germans are supportive of the demands of burgeoning anti-Islam rallies, according to survey findings released Friday, as Berlin puzzles over how to stem the rising tide of anger over refugee arrivals.
The latest weekly rally in the eastern city of Dresden on Monday brought out 15,000 supporters of Patriotic Europeans against Islamization of the Occident (Pegida), an anti-foreigner group.
Although Pegida is perceived as channelling attitudes of people in Germany's formerly communist east, a breakdown of the data by pollster YouGov showed there was not much east-west difference in responses to it.
Asked if it was "good that someone draws attention to mistakes in political asylum policies and opposes Islamists," which is how Pegida presents its stance, 36 per cent of easterners and 33 per cent of westerners agreed.
The pollsters interviewed 1,025 Germans and adjusted the findings to be representative of the whole German population over 18.
Government officials have repeatedly denounced Pegida as a rightist movement, saying Germany is not being "Islamized." Muslims make up far less – 4 per cent – of German society than popularly believed, and the bulk of current refugee arrivals from Syria are Christians.
There has been disagreement at the top of Chancellor Angela Merkel's government over whether to strictly dissociate from the protest movement or engage with it.
Justice Minister Heiko Maas called the rallies appalling and said he had zero sympathy with anyone who found Pegida's views appealing.
But Interior Minister Thomas de Maiziere countered that the government must engage with genuine concerns among the populace. He said Germany should debate how it will cope if annual refugee arrivals remain at a historically high 200,000.
In Dresden, the government of Saxony state said it would seek to counter Pegida with Twitter messages, publicizing factual information about refugee numbers and refugee absorption into society with the hashtags #pegida and #nopegida.
Rising antipathy to immigrants has been a drumbeat in elections around Europe in the past year.
Initially, Germany seemed immune to the groundswell, but the rise of Pegida, and a bid by a small eurosceptic party, Alternative for Germany, to embrace the protests has suggested Germany is now catching up with the trend.