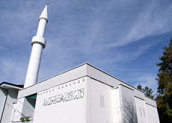 The construction of minarets in Switzerland looks sets to go to a nationwide vote after a group of rightwing politicians launched a campaign calling for a ban. The country's Muslim community says it is stunned by what it sees as an "Islamophobic" move, which it warns will undermine already fragile relations. Those behind a people's initiative, who include members of the county's biggest political party, the Swiss People's Party, have until November 2008 to raise the 100,000 signatures required to force a ballot.
People's Party parliamentarian Ulrich Schlüer, who is co-president of the campaign committee, argues that the construction of minarets will create problems in communities and threaten the peace. "The minaret has nothing to do with religion: it is not mentioned in the Koran or other important Islamic texts. It just symbolises a place where Islamic law is established," Schlüer told swissinfo.
The rightwing drive to force a nationwide vote on minarets is being seen as a major setback by the League of Swiss Muslims. Adel Méjri, the organisation's president, says the construction of minarets is not even a priority for Swiss Muslims. Méjri also points to a report by the Federal Commission against Racism in September last year, which revealed that Swiss Muslims face discrimination in all walks of life – a situation that could be exacerbated by the minarets' affair. "Through dialogue we can find solutions but the aggressive – or dare I say 'Islamophobic' – way in which this is being treated could have unforeseen consequences. This kind of initiative threatens peace and hurts Muslims," he said.
Both the Protestant and Catholic churches have rallied to the defence of the Muslim community, claiming the constitutional right to religious freedom allows the building of minarets. "We must recognise that there are a large number of Muslims in Switzerland and they have a right to practise their religion," said Walter Müller, spokesman for the Swiss Bishops Conference.