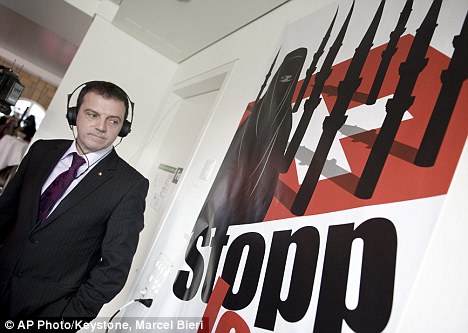 A large majority of citizens is apparently in favour of introducing a nationwide ban on burqas for Moslem women in Switzerland according to an opinion poll.
More than 60% of respondents said they would outlaw the Muslim religious garment in public spaces, says a survey by the Léger Switzerland polling institute.
The SonntagsBlick newspaper says people of all age groups and both in the German- as well as in the French-speaking parts of the country would vote for a ban. About one in three respondents are apparently against it.
A member of the rightwing Swiss People's Party [Walter Wobmann, pictured] is planning to launch a campaign next year for a nationwide vote on the issue.
Last year, a two-third majority of voters in Italian-speaking Ticino – one of 26 Swiss cantons – agreed a public ban in the southern Swiss region. But the decision is pending approval by the federal authorities.
Five years ago, a People's Party committee won a nationwide vote banning the construction of new minarets in Switzerland, prompting a political upset.
Update:  See "A potential burqa ban at the federal level in Switzerland, Muslimah Media Watch, 23 December 2014