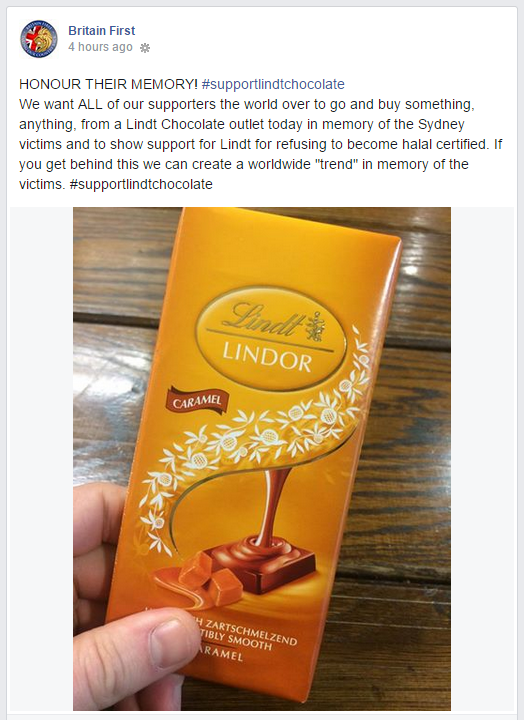 Britain First has been accused of using the Sydney café siege that involved the death of two hostages to "push conspiracy theories" on its social media channels.
The leader of the right-wing political movement has issued a video message to its Facebook followers blaming the attack by lone gunman Man Haron Monis on "mass immigration", while a series of posts attempted to link the incident to "halal certification".
Paul Golding said that an attack on Australia was "an attack on Britain and the British people", on the grounds that "it was Britain that actually built Australia… the people living there have British ancestry and the Queen is still the head of state".
He said he was issuing a "warning from a country that is already in deep danger regarding Islamic extremism". "Every single Western country in the world is facing the threat from jihad, from demographic decline and takeover due to mass immigration," he said.
The attack on Monday marked the country's first terrorist attack on home soil resulting in the loss of three lives, including that Monis. The hostages who died were named as Katrina Dawson, a 38-year-old barrister and mother-of-two, and 34-year-old Tori Johnson, the café's manager.
A large amount of seemingly unfounded social media speculation has suggested that the Lindt Chocolate Café in Sydney was targeted because the Swiss company is not Halal-certified. Its name features on a website listing such companies, Australia's Sunshine Coast Daily reported, that has been part of a long-running anti-Halal campaign in the country.
One Australian woman, named Hailey Chamberlain, wrote on the official Facebook page for the café: "Please keep Lindt chocolate free of being Halal-certified in memory of your hero staff that lost their lives in this terrible tragedy."
In a Facebook post, Britain First urged its followers to "honour the memory" of those killed by buying some chocolate "to show support for Lindt for refusing to become halal certified".
It said: "Isn't it odd that one of the few companies that refuses to pay Halal tax (Zakat) was chosen to be attacked in Sydney? The Australian Tea Party posted a photo last month claiming that Lindt does not have Halal chocolate, which conceivably could be a motive for targeting the Lindt café."
Steve Rose, from the inter-faith thinktank Faith Matters, said that Britain First were seeking to capitalise on the terror attack to "create fresh hysteria".
He told The Independent: "As many Australians try to make sense of this mindless act of murder, Britain First feel it appropriate to push conspiracy theories around halal certification and terrorism.
"Zakat is about charity and the idea that it's some sort of 'halal tax' is laughable. Creating a fresh hysteria around halal products only serves to further demonise Muslim communities at a time when some seek to damage community cohesion."