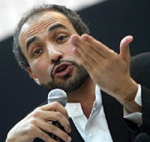 One of Europe's leading Muslim scholars, Tariq Ramadan, told French lawmakers Wednesday they were failing to address the real problems facing French Muslims by debating whether to ban the burqa. Swiss-born Ramadan told a parliamentary inquiry holding hearings on the wearing of the full Islamic veil that a law banning the practice would simply force Muslim women who cover themselves to "stay at home".
"This debate surrounding the burqa bothers me," Ramadan told the panel. "Because in the end, this is not the question that needs to be raised. The real problem is that when you have a name that is a bit Arab-sounding, or Muslim by affiliation, you are not going to get a job or you are not going to get an apartment."
The decision to invite Ramadan to testify before the panel had stirred much controversy with some of the lawmakers opposed to his appearance and accusing him of promoting hardline Islam
A professor of Islamic studies at Oxford, Ramadan warned lawmakers that a law banning the burqa would be counter-productive and urged them to instead work with French Muslim leaders for change. "All of this commotion over the burqa does tell ordinary citizens that there is something wrong with Islam and leads to stigmatisation," he said.