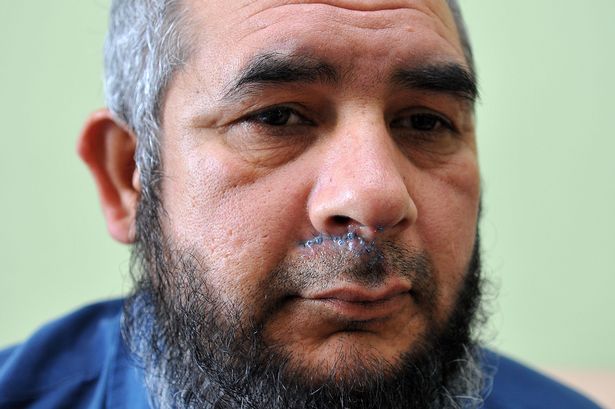 A taxi driver was stabbed in the face during an alleged race-hate attack, leaving him scarred for life.
Father-of-five Javad Iqbal, 48, needed six stitches after the attack in Rochdale, the Manchester Evening News reports. He was assaulted after dropping off a punter in the town just before 2am on Sunday. Mr Iqbal, from Deeplish, Rochdale, had to go to hospital and his Toyota Avensis was damaged during the incident.
It is believed to be the second stabbing of an Asian taxi driver in the borough in the last two weeks.
Mr Iqbal's boss Abrar Hussain Junior, 43, director of No 1 Diamond Cars in Middleton, said: "One can only put it down as a hate crime. What else can it be? You don't go around stabbing someone unless you have a beef with somebody.
"This is the second stabbing of taxi drivers in Rochdale borough in two weeks. Sadly, the drivers don't get enough protection. If a taxi driver tries to restrain someone for not paying, the council will take their licence away.
"Two weeks ago another driver (at another firm) took a customer from Cheetham Hill to Middleton. He started kicking his car, ran into a house and brought out a knife and stabbed the driver in the face as well.
"I've worked in Middleton for the last 16 years. I've know taxi drivers be assaulted and I've known customers do runners. It happens all the time. It's one of those things. We don't even tell the police. We just get on with it. But I've never known a taxi driver to be stabbed."
He added that the attacks could be linked to animosity towards Asian taxi drivers following the town's child sex grooming scandal in which two of those jailed were taxi drivers.
Stephen Campbell, the boss of the taxi firm which employed them, now known as Car 2000 in Heywood, last week reversed a policy to offer white drivers on request following a protest by Asian cabbies who complained they were 'treated like paedophiles'.
• A man has been charged with committing grievous bodily harm with intent, possessing a bladed article in a public place, criminal damage and racially or religiously aggravated criminal damage in connection with the incident.
He was remanded in custody when he appeared before magistrates. He will re-appear at Minshull Street Crown Court next month.