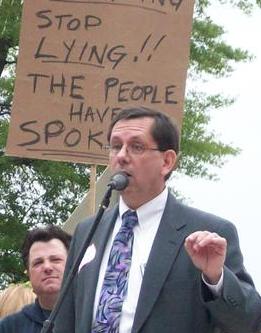 Tea Party Nation founder Judson Phillips sent an email to members on Saturday that said voters should pick independent Lynne Torgerson over Rep. Keith Ellison in the 5th Congressional District race because, "He is the only Muslim member of congress."
Torgerson, who has been very critical of Muslims in general and Ellison in particular, spoke out about the issue on a Christian radio show last week.
"There are a lot of liberals who need to be retired this year, but there are few I can think of more deserving than Keith Ellison," wrote Phillips. "Ellison is one of the most radical members of congress. He has a ZERO rating from the American Conservative Union. He is the only Muslim member of congress. He supports the Counsel [sic] for American Islamic Relations, HAMAS and has helped congress send millions of tax dollars to terrorists in Gaza."
He continued, "Lynne Torgerson is a good conservative, opposing the lunacy that Ellison brings to congress. Lynne Torgerson is someone we really need to see in congress."
Ellison is the first Muslim to be elected to Congress, but he's not the only one. André Carson has been representing Indiana in the House since 2008.
Phillips is the head of Tea Party Nation, a group that hosted Sarah Palin in February for a national tea party convention held in Tennessee.
Torgerson relayed her views on Islam to Pastor Brad Brandon on his radio program late last week. Torgerson was among candidates Brandon recently endorsed from the pulpit of his Hastings church, triggering a complaint to the Internal Revenue Service.
"I am trying to expose Keith Ellison and his ties to CAIR and radical Islamism," she said. "He's been tied to CAIR since college. CAIR was named a co-conspirator in the Holy Land Foundation trial which was convicted of sending $12 million to the terrorist organization Hamas, and Keith Ellison also helps CAIR raise funds and CAIR helps Keith Ellison raise funds."
Brandon asked Torgerson about her campaign, and she outlined three issues she is focused on.
"One is to expose Keith Ellison and that he has no business being in our federal government," she said. "Two, I also am trying to teach people about the problems we have with the ideological political part of Islam as opposed to the religious part. Under the First Amendment, we, of course, have to allow them to worship the moon god Allah but beyond that Islam, also known as Sharia law, is not just a religion. A big part of it is the political ideology that is in conflict with our U.S. Constitution, freedom of speech, equal protection for women, freedom of religion."
Minnesota Independent, 26 October 2010
See also ColorLines, 26 October 2010