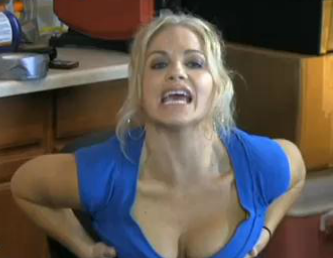 A third-grade HISD teacher accused of making profane and anti-Muslim remarks on a public access television show will resign immediately and receive three months' pay under a deal approved by the school board Thursday.
Angela Box, a teacher at Daily Elementary in west Houston, had remained in the classroom since controversy over her comments surfaced in mid-November. Her annual salary is $50,100.
Box has taught in HISD since July 2013 and previously taught in Spring Branch ISD. She was a regular guest on the conservative political show "Tommy's Garage."
Trustees of the Houston Independent School District did not discuss the settlement publicly before their 6-0 vote to approve the deal.
In a statement Thursday, Box said she would miss her students and treasure the time she spent with them. She said "character assassination" by community activist Quanell X, who had accused Box of using a racial slur, made it impossible for her to remain in her job.
"As I have said before, opposing President Obama and sounding the alarm about radical Islam does not make me a racist," the statement said, adding that she did not utter the racial epithets Quanell X had attributed to her.
"I am considering all my legal options regarding the conduct from Mr. X and others. I expect to have an announcement as early as next Monday regarding my future steps."
After Box's comments surfaced, HISD officials initially said they respected the First Amendment free-speech rights of employees and that they were handling concerns from parents individually.
In online clips, Box could be heard referring to "bacon-haters," using profanity in connection with Muslims and asking, "Can't Ebola just take one for the team and take out Obama?"
"District administrators recommended accepting Box's offer of resignation after determining it was in the best interest of the school and its students," HISD said in a statement Thursday.
A Twitter account that appears to belong to Box posted the following Thursday morning: "Having The New Black Panthers, The New Black Muslims, and C.A.I.R. attack me might be the greatest compliment I've ever received. #vigilance".
CAIR, the Council on American-Islamic Relations, previously wrote a letter to HISD Superintendent Terry Grier saying it was "appalled" by Box's statements. CAIR stopped short of calling for Box to be fired, citing respect for free-speech rights, but its spokeswoman said Thursday the organization was pleased with the outcome.
"Our concern has always been the children – the students in the classroom and whether or not they're impacted by the things Ms. Box said," said the spokeswoman, Ruth Nasrullah. "So we're happy, we're satisfied, with the fact she's no longer going to be working in the school."
Houston Chronicle, 4 December 2014
See also "Good news: CAIR-Houston welcomes resignation of anti-Muslim teacher", CAIR press release, 4 December 2014