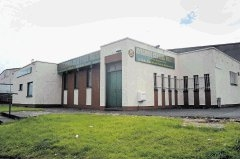 A teenager shouted racial abuse as he kicked and stamped on a 71-year-old grandfather's head for 10 minutes. And he later sent a sickening text boasting about his horrifying actions.
At Kilmarnock Sheriff Court on Monday, the 16-year-old – who cannot be named for legal reasons – pleaded guilty to carrying out the vicious attack outside the Ayrshire Central Mosque in July.
His victim, who had already suffered a stroke, sustained severe facial injuries in the unprovoked attack which took place in the early hours of the morning.
Nancy Beresford, prosecuting, said that the former Crosshouse shopkeeper had gone to the mosque, in Hill Street, Kilmarnock, to prepare for Friday prayers at around 1.40am. As he approached the door, clad in white robes, he noticed a male and two females, along with young children, standing in the street, with another group of females nearby.
The 16-year-old then came towards him shouting abuse, including "Paki bastard". He punched the pensioner in the chest, causing him to fall to the ground. The teenager continued the assault, while still shouting abuse.
Interviewed, he denied the assault and racial abuse. The 16-year-old told police that he couldn't understand "why somebody was praying at that time in the morning".
Kilmarnock Standard, 16 September 2011
Via ENGAGE
---
The Ayrshire Central Mosque was opened earlier this year after the conversion of a former pub – a development that was fiercely opposed by the Scottish Defence League. Back in 2009, when the EDL was planning to extend its Islamophobic campaign north of the border, Osama Saeed reported:
"Mosques in Glasgow and Kilmarnock have been identified by the far right Scottish Defence League and their English counterpart as possible scenes of protest. In Glasgow, we understand that they have discussed George Square, Pollokshields and the Sheriff Court as possible locations. The latter seems like a strange place to hold a demonstration till it is understood that it is across the street from Glasgow Central Mosque. Also discussed has been a pub in Kilmarnock, the Hillhead Tavern, which is the subject of interest from a Muslim group to buy and convert into a mosque."
The SDL eventually settled on Glasgow for their first demonstration but went on to organise a protest in Kilmarnock in June last year. Although it was billed as a demonstration in defence of "free speech", the SDL's main target was clearly the conversion of the former Hillhead Tavern.